Changes¶
The changes view shows you all the changes introduced by this merge request.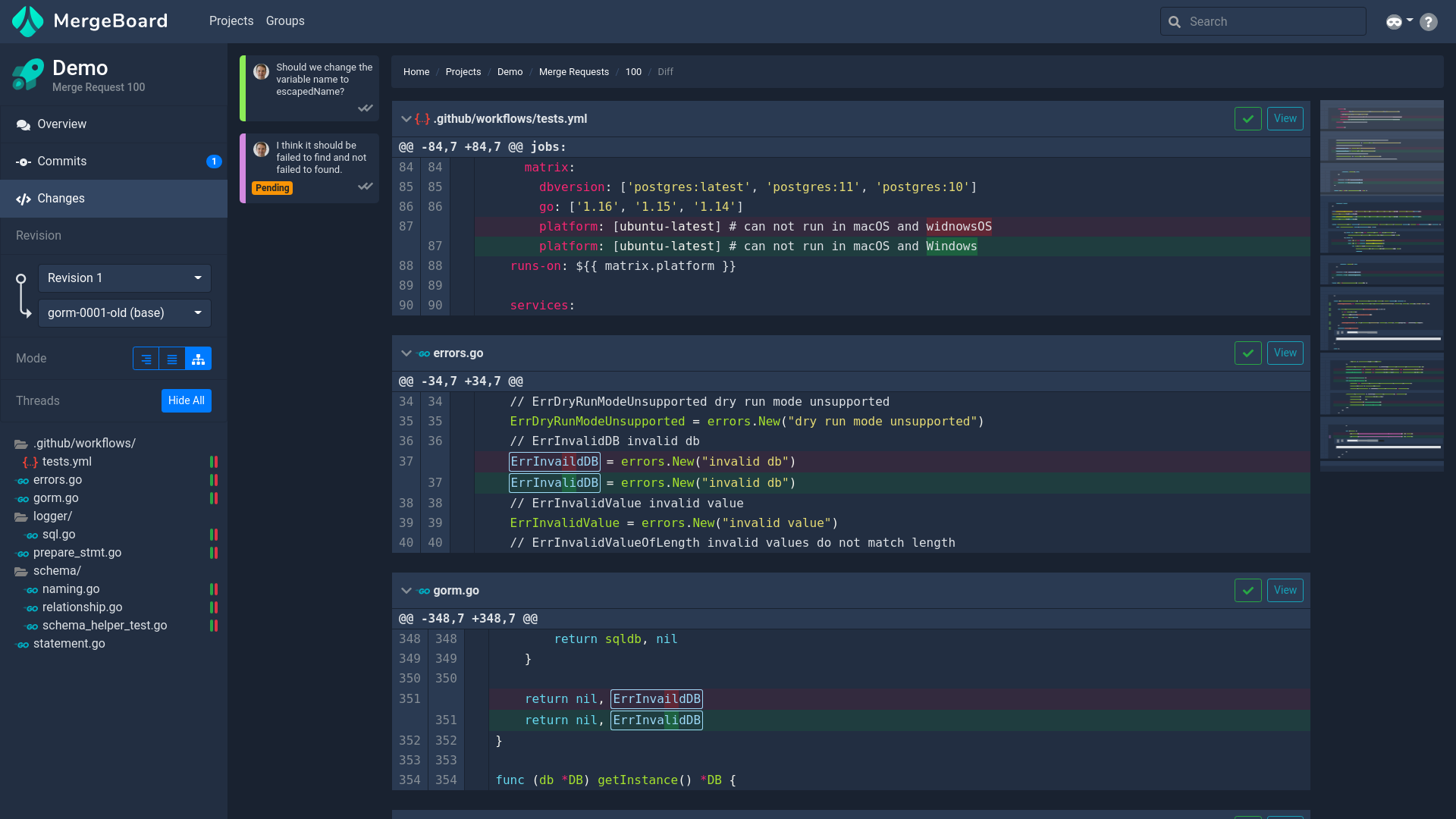 The changes view shows you all changes that are introduced by this merge request. It is very similar to the Commits view in that it summarizes all changes introduced by all commits. Many of the elements presented here are discussed in more detail in Code Review and Diffs.
Elements¶
2 Toolbar¶
You can interact with the shown diff using three tools. To activate them click the respective icon.
Default Mouse Behaviour

Allows you to select and copy text.

Highlighter

Click and drag across lines you want to highlight. Highlights can span multiple lines. You can also highlight multiple separate lines across several files. Highlights are associated with the next comment you add. If you leave the page without adding a comment, your selection will be lost. MergeBoard maps highlights associated with comments across commits and revisions. You can remove a highlight as long as you have not commented on it by right clicking and dragging across the respective area.

LGTM Marker

Click and drag across lines you want to mark as reviewed and looking good. This marker helps you to keep track of code areas you have already reviewed and is not visible to other users. Should a marked line change between revisions, the mark will be removed. You can remove the marker again by using your right mouse button.
3 Minimap¶
Another handy tool is the minimap, which lets you quickly navigate the diff by clicking it where you want to go. A white overlay always shows you what part of the diff you are currently seeing.
4 Diff¶
The main body of this view is the diff, i.e. a visualization of all changes introduced in the current commit.
Each file is shown as a separate block with its name or path in the top header. You can collapse files by clicking this header. Large files are collapsed by default. To view not only the changes but the entire file, click the View button in the file header. To get more context around changes, hover with the mouse in the vicinity of the change until you see the show more button and click it.
Please take a look at Diffs to learn more how MergeBoard displays changes and how to interpret them.